The 2017 Toyota Corolla SE Test Drive You Need to Experience Yourself
When you look at the 2017 Toyota Corolla SE, you see a determined grimace. The car has an angular jaw that juts forward, multi-LED headlights that narrow in concentration, and a black honeycomb grille covering its chin like coarse stubble.
That first look is only as good as any first impression. By design, the Corolla SE appears more aggressive than other trims of the same model, but this car still wants to be your friend — regardless of the expression it wears.
We had an opportunity to take the Corolla out on a test drive around Amarillo on behalf of Street Toyota, and we want to share the experience with you. Buckle up and hold on tight.
Safety First: Standard Toyota Safety Sense™ P
By now you should know Toyota takes safety seriously. So seriously that no other brand was awarded more Top Safety Pick + ratings for its cars by the Insurance Institute for Highway Safety.
Other brands might offer more gadgets or finer features, but Toyota puts safety above everything else when they're designing cars.
That's why the Corolla SE comes standard with Toyota Safety Sense™ P (TSS-P).
For a quick refresher, TSS-P includes:
Pre-Collision System with Pedestrian Detection

Lane Departure Alert with Steering Assist

Automatic High Beams

Dynamic Radar Cruise Control
You can refer to our previous blog post on the advanced safety system for more details.
Lane Departure Alert in Action
We got to try out two of these features during our test drive. The first was the Lane Departure Alert system. While it's turned on, it uses a camera mounted in front of the rearview mirror to detect when you're drifting out of your lane. Stray too far and the dashboard will beep at you. An icon on the Multi-Info Display between the instruments will also light up.
If you are in danger of swerving over the line and your hands aren't on the wheel, the built in Steering Assist will attempt to guide you back into your lane.
We noticed the alert was beeping at us a little too insistently, so we used the controls on the steering wheel to turn down the sensitivity. Reined in, we didn't hear from it again throughout our test drive. The Lane Departure Alert also won't say anything if you're traveling at speeds lower than 32 MPH or if your turn signal is engaged, so Toyota has programmed it to be helpful instead of annoying.
Cruising in Control
The other feature we tried was the Dynamic Radar Cruise Control (DRCC). Using the Corolla's forward facing camera and radar, this smart cruise control system will automatically speed up and slow down based on how far ahead the car in front of you is. The system is activated via a stalk coming off the steering column, and you can adjust your follow distance between one, two, and three car lengths.
We engaged the DRCC during our test drive, and when the car in front of us approached a red light, our Corolla started braking on its own. When the light changed and the car in front began to accelerate, our car also sped up to maintain the correct following distance.
Other Safety Features
The TSS-P systems we couldn't test were the Automatic High Beams and the Pre-Collision System with Pedestrian Detection. It was the middle of the day, so we didn't have any reason to turn on our headlights. And you can understand why we wouldn't test Pedestrian Detection on purpose.
It's remarkable that these four features are standard equipment on a compact Toyota. These systems represent the kind of technology that, until recently, was only available in the luxury car market. Now you can get dynamic cruise control on a Corolla, and not even the top trim level Corolla.
Add in other safety features like 8 airbags (including a driver knee airbag), 4-wheel disc brakes, and the Toyota Star Safety System, and it's clear how the 2017 Corolla earned its IIHS rating.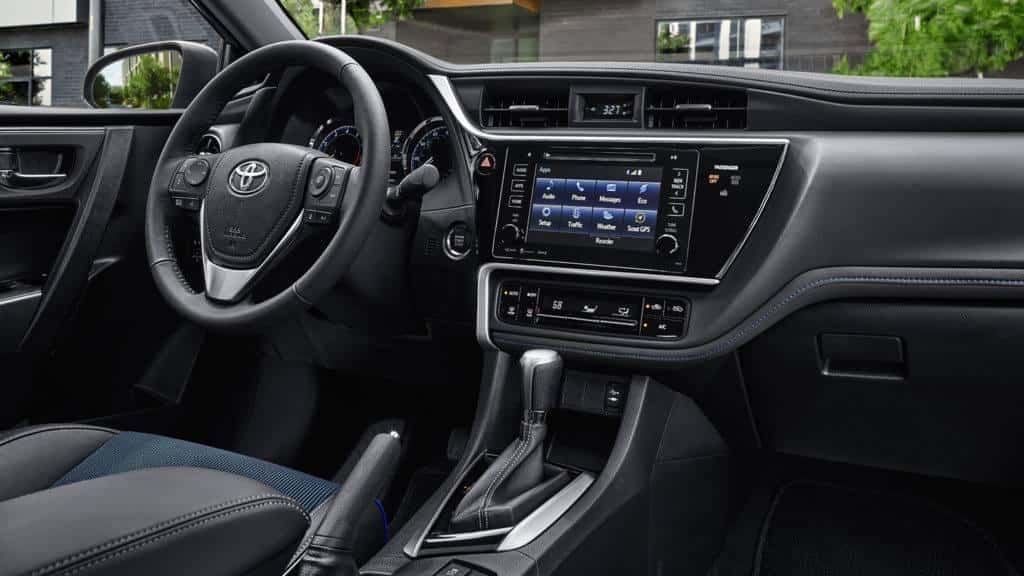 How It Drives: Inside the Corolla SE
Beyond the safety tech, driving a new Corolla feels like driving most new cars, and that's a good thing. Toyota is proud of their reliability and quality, and they've had a long time to get this model just right. It's been on the road for 50 years now, and it's one of the most popular cars in the world.
Performance
With the Corolla SE, you're getting a car that looks cool, but you're not getting a car you can go crazy in. Under the hood, you'll find a 1.8-liter 4-cylinder engine. It's a dual overhead cam (DOHC) configuration, and it comes with Toyota's Variable Valve Timing with intelligence (VVT-i) technology. Paired with a continuously variable transmission (CVT), this powertrain will deliver the kind of fuel economy that attracts a diverse range of owners.
The EPA estimates the Corolla SE will get 28 mpg in the city, 35 on the highway, and 31 when you combine both conditions. The CVT helps you achieve those numbers with controlled acceleration.
If you've never driven a car with a CVT before, it might take some getting used to. Instead of shifting between pre-set gears, a CVT will adapt to how much throttle you want and how fast the car is traveling. The gear ratio changes depending on the situation, ensuring you always have the optimal response.
We found this transmission works well for both city and highway driving, and you shouldn't make the mistake of assuming the Corolla is any slower for it. Twice, we caught ourselves doing 50 mph on roads where the speed limit was 35.
If you feel like you're lagging behind, don't worry. The SE trim also comes standard with a Sport mode and paddle shifters. With this mode engaged, the engine and transmission are adjusted to give you a more enthusiastic response. With the paddle shifters, you can move up and down between simulated shift points. We didn't get a chance to try out these features on our test drive, but if your commute features winding roads, it might come in handy.
You can also get the real thing if you prefer. The Corolla SE is also available with a 6-speed manual transmission.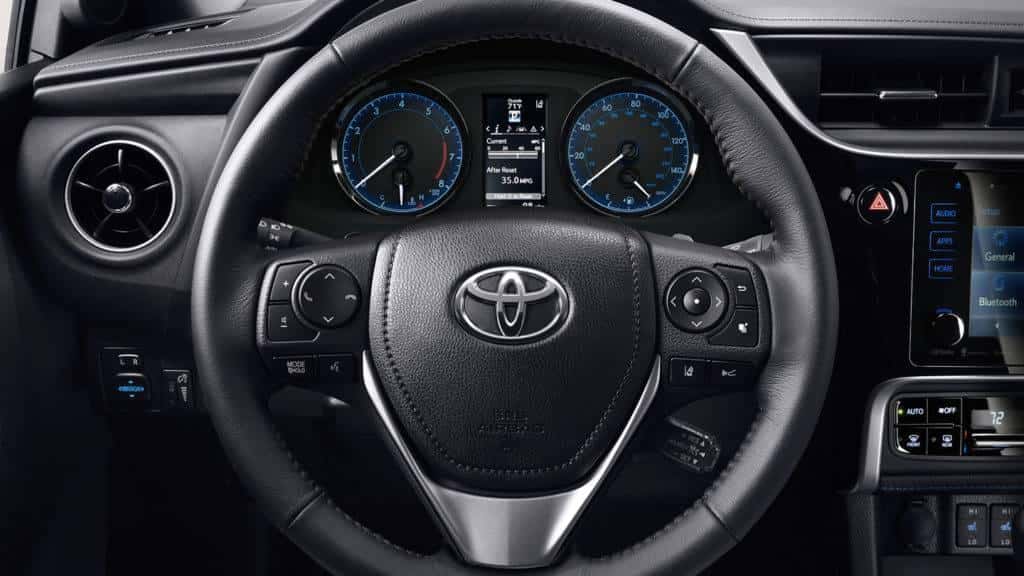 Interior Experience
Our Classic Silver Metallic Corolla SE had a black cloth interior, with blue accent piping along the edges of the seats. The dashboard was black, too, with glossy elements surrounding the center touchscreen. A blue user interface and blue rings around the speedometer and tachometer completed the color scheme.
The Corolla also features Bluetooth® pairing for your phone, which lets you make phone calls, receive text messages, and stream music. There are buttons on the steering wheel for answering calls, and you can give the system basic voice commands.
You should also know that this car is available with automatic climate control, so you can always stay comfortable at your preferred temperature. The seats are comfortable enough, and they include extra support to lessen the impact of whiplash.
Conclusion: Who is the 2017 Toyota Corolla SE for?
With standard Toyota Safety Sense™ P on the SE trim and a number of other underlying safety features, the new Toyota Corolla is one of the safest cars you can drive in this price range. It offers excellent fuel economy, a comfortable driving experience, and suitable styling.
The Corolla also offers you a diverse choice of trims. From the base Corolla L up to the Corolla XLE, you have access to everything you need in a compact car. Between the Corolla SE and the top level Corolla XSE, you have everything you could want in one.
After taking it for a spin, the SE is a perfect fit for anyone who wants a practical car with more style. Toyota's signature dependability makes the Corolla a reliable car for single owners, young and old. The top safety rating also makes it a good fit for growing families, or as a second car for bigger families.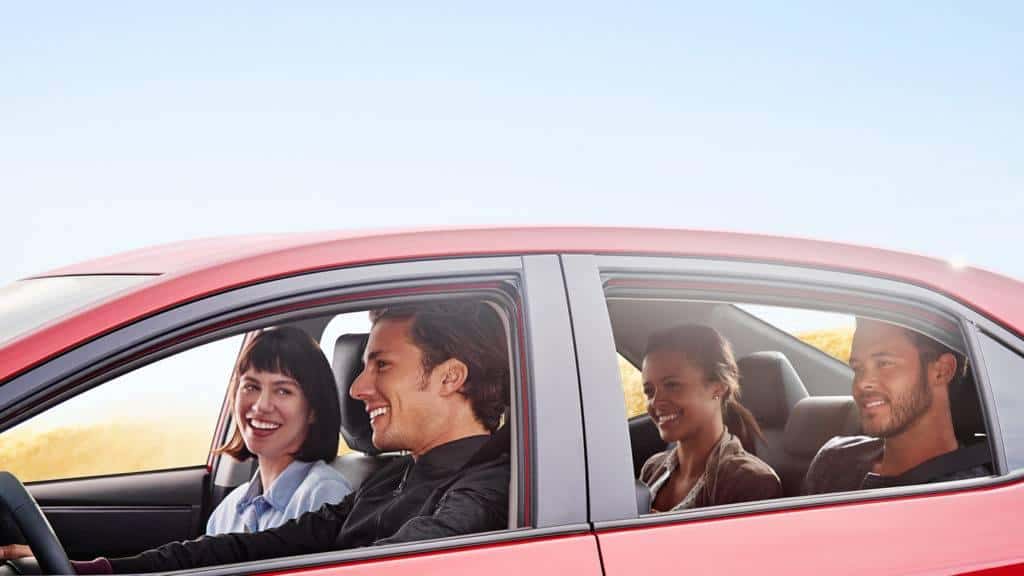 If you have more questions about the new Toyota Corolla, we encourage you to visit us at Street Toyota for your own test drive. We're conveniently located in Amarillo, Texas, and we would love to hear from you.
Interested in the Corolla but wish it had even better fuel economy? Click here to read about the Toyota Corolla LE Eco.