2023 Toyota RAV4 Woodland Edition Release Date, Interior, & More
The 2023 Toyota RAV4 Woodland promises to be a bold new version of the famous Toyota RAV4. It will be the first iteration of this sleek SUV that is purposefully decked out as a special off-road edition. It will take the comfortable and stylish RAV4 off the beaten path with all of the upgrades found on the Woodland Edition models. The rest of this article lays out the special parts and features of this dynamic new Toyota RAV4 model, including a discussion of its interior, technology, performance parts, and potential release date.
2023 Toyota RAV4 Woodland Edition Performance Parts
The new Toyota RAV4 Woodland Edition enjoys a wide variety of specialized off-roading equipment. It comes standard with Electronic On-Demand All-Wheel-Drive, allowing you to turn on this feature with the press of a button. You'll also have a specialized Trail Mode driving option that leverages the torque of the vehicle and the 2023 Toyota RAV4 Woodland AWD capacity to crawl across broken ground with the best of them.
This vehicle will ride on coil springs that are tuned for off-road performance, TRD-style suspension, Falken® WILDPEAK AT tires, and flow-formed bronze-colored wheels. These off-roading upgrades can see you navigate many obstacles you come across, on or off the street.
There are some aspects of this new version of the Toyota RAV4 that are unknown. Toyota has not, for example, announced the 2023 Toyota RAV4 Woodland Edition towing capacity as of this writing in September 2022. We expect that it will be sufficient to bring the family's small boat or pop-up camper along for a weekend getaway in the woods, however.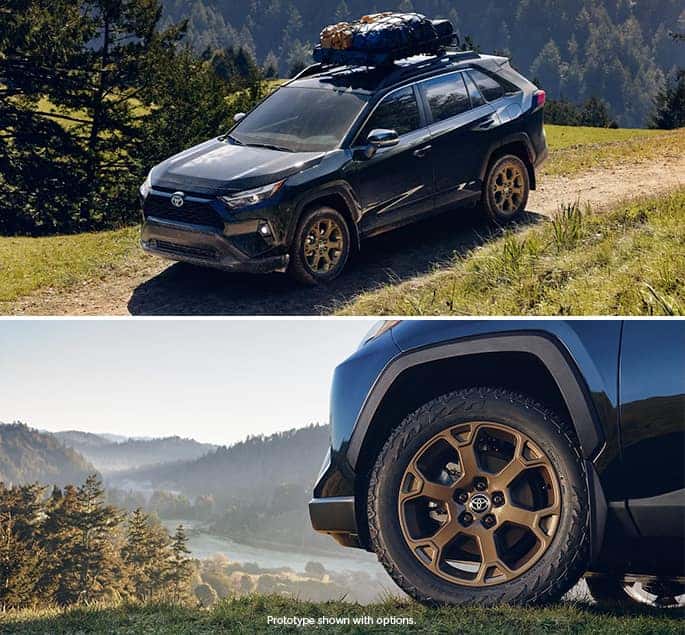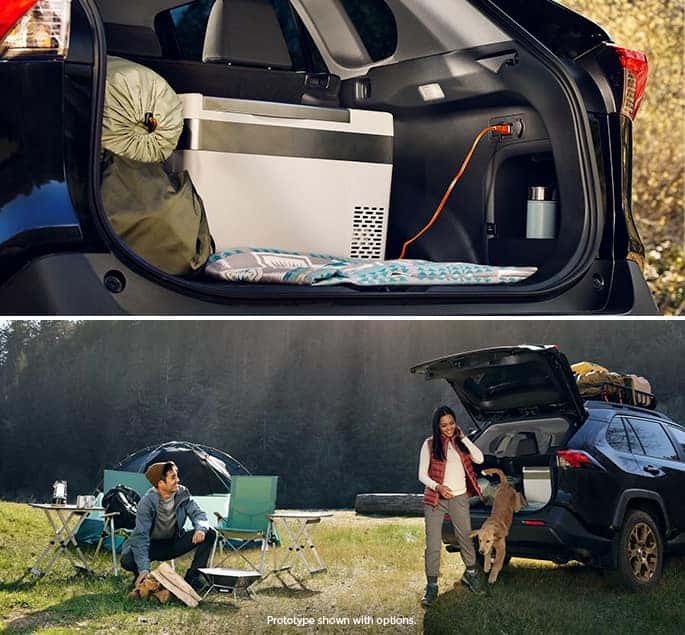 2023 Toyota RAV4 Woodland Interior
While the off-roading performance parts are, for many drivers, the most exciting aspect of the new 2023 Toyota RAV4 Woodland Edition SUV, there are several compelling features to be found in the vehicle's cabin as well. It boasts an eight-inch multimedia screen, wireless Apple CarPlay® and Android Auto™, and a 120-volt outlet in the trunk that lets you run a coffee maker, air mattress pump, or other appliance that can help smooth out your car-camping experience.
The vehicle is well-equipped for days away from town. The trunk includes cargo nets on the sides for stowing small items and a reversible Woodland Edition cargo area insert. This Woodland Edition-specific branding does not stop in the trunk: the vehicle has several black Woodland Edition badges, along with matching mudguards and roof rails. The dual black chrome-tipped exhaust fits right in with these other accents.
Drivers can choose one of three exterior paint color options for their 2023 Toyota RAV4 Woodland Edition: Midnight Black Metallic, Cavalry Blue, and Ice Cap. These three choices allow you to customize your vehicle. Drivers who prefer a stealthy look will want the Midnight Black Metallic, while folks who prefer a bright aesthetic may favor the Cavalry Blue option. Ice Cap offers a refined and stylish look.
2023 Toyota RAV4 Woodland Release Date
Just as we do not yet know the towing capacity of this version of the Toyota RAV4, we do not yet precisely know the 2023 Toyota RAV4 Woodland release date. Industry experts expect the vehicle to debut in Fall 2022, however, which is imminent. Hopefully, we'll be able to get behind the wheel of this dynamic new off-roading machine in time for a final fall car camping trip.
We expect the 2023 Toyota RAV4 price to be competitive and to offer great value for your money. As a hybrid, this SUV can help you save on gasoline thanks to its excellent fuel economy. Its slew of off-roading upgrades and a great lineup of technology may also make this vehicle a compelling option for adventurous drivers. Some of you, however, may be thinking that a two-row SUV does not precisely meet your needs. Check out our Toyota SUV size comparison to learn about the different vehicle size options in the Toyota lineup.
If you would like to stay in the know about the 2023 Toyota RAV4 Woodland availability, then reach out to our team. We'll keep you informed about this vehicle's release, and we can help you get to the front of the line if you reach out to us and express interest in this vehicle today. Whether you're looking for the Woodland Edition, want to check out our currently available new Toyota RAV4 for sale, or purchase another one of our vehicles, we've got you covered. We offer competitive financing and dedicated customer service. Visit us today for a Toyota test drive.
FAQ
Will the Toyota RAV4 be redesigned in 2023?
The Toyota RAV4 lineup will be revised for the coming model year but is unlikely to be completely overhauled. Toyota has tweaked the RAV4 Hybrid lineup by adding the Woodland Edition and is redoing the infotainment setup for the RAV4 Prime model as well. It's still considered a fifth-generation model, which is not new for the 2023 model year.
What are the 2023 Toyota RAV4 Woodland colors?
There are three color options for the new Toyota RAV4 Woodland Edition. Drivers who like to slide by unnoticed will like the Midnight Black Metallic option. Folks on the other end of the spectrum can opt for Ice Cap, a bright white exterior paint color. Finally, the Cavalry Blue choice allows drivers to opt for a blast of color as opposed to the black and white choices we've already mentioned.
When is the 2023 Toyota RAV4 Woodland release date?
The Toyota RAV4 Woodland Edition should be available for purchase in fall 2022. This is based on the predictions of industry experts; Toyota has not yet firmly told us to expect the vehicle during the coming fall season. We are excited to drive this new off-road-focused RAV4. Reach out to our friendly staff to receive updates about this bold new SUV.
Contact Us
Read More Toyota Model Research In Amarillo, TX: